S.O.A.R Peer Counselling Training Manual
This manual is designed as a "textbook" for an 18-session training course, and is not intended to stand alone without the in-class training.
However, there is a lot of useful information, particularly in the Resources section, that can help survivors in their healing journey.
Watch this web site for notices of upcoming training courses offered by S.O.A.R.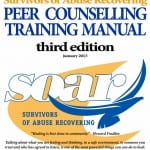 Click on the picture of the English manual to download a PDF version to read. This version cannot be printed.
If you would like to purchase a printed version in a binder, the cost is $35 plus postage.
Contact us for more info.
---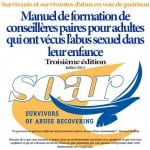 Également disponible en français (sauf pour la section Ressources).
Cliquez sur l'image du manuel français pour télécharger le manuel en français. Cette version ne peut pas être imprimé.
Si vous souhaitez acheter une version imprimée dans un liant, le coût est de 35$ plus frais de port.
Contactez-nous pour plus d'informations.
Recommendations for the manual:
"SOAR's Peer Counselling Training Manual is excellent. It offers a valuable resource for those who wish to provide effective and humane help to people recovering from the effects of sexual victimization. Congratulations and thanks to those who created this important document."
– Mike Lew, 
The Next Step Counseling & Training
, Brookline, MA.
Author of
Victims No Longer: The Classic Guide for Men Recovering from Sexual Child Abuse
and
Leaping upon the Mountains: Men Declaring Victory over Sexual Child Abuse
---
"From the perspective of an organization that works with survivors of sexual abuse, S.O.A.R.'s Peer Counselling Training Manual has taken all the necessary steps to ensure the health and safety not only of its group participants, but also of the peer counsellors.  Working with a group of individuals who have suffered child sexual abuse can bring up so many issues it could seem overwhelming to know where to begin. This manual has practical information and the tools necessary to help facilitate a group through many difficult and often painful experiences. It is written in a manner that is respectful of the facilitators not only presenting potential challenges but including helpful suggestions."
– Jenn Gorham
Program Coordinator, Fredericton Sexual Assault Crisis Centre
---