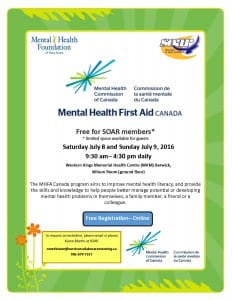 Mental Health First Aid course. July 8, 9 at the Wilson Room at WKM Health Centre in Berwick, 9am – 4:30 pm each day – Friday and Saturday. Note that this course itself is free but there is a $35 charge for materials.
Register online: https://www.eventbrite.ca/e/mhfa-for-guests-of-soar-members-tickets-25689135897?aff=ebrowse
The MHFA Canada program aims to improve mental health literacy, and provide the skills and knowledge to help people better manage potential or developing mental health problems in themselves, a family member, a friend or a colleague.
Click here for MHFA Poster